Last week, I wrote about beautiful beaches I went to while visiting Santorini. Although the Greek Island isn't particularly known for beaches, they were great. The second island in Greece I visited was Milos (the same place where the famous statue was found), the south-westernmost island of the Cyclades. Guide books often list it among the islands with the best beaches.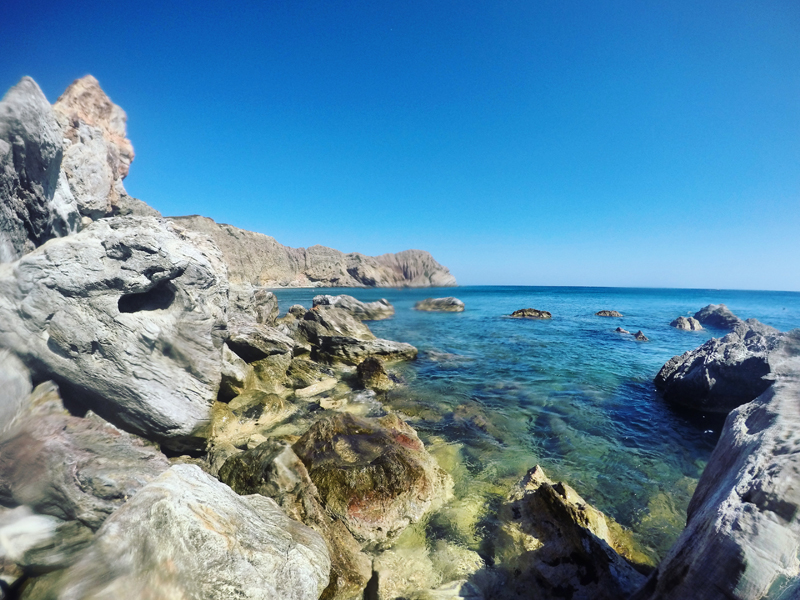 Milos
My boyfriend and I took a ferry from Santorini and stayed in Adamas, Milos' charming port town — a popular destination in the summer months. We spent three days on the island and didn't see every beach Milos has to offer, of course, but here are a few suggestions.
Sarakiniko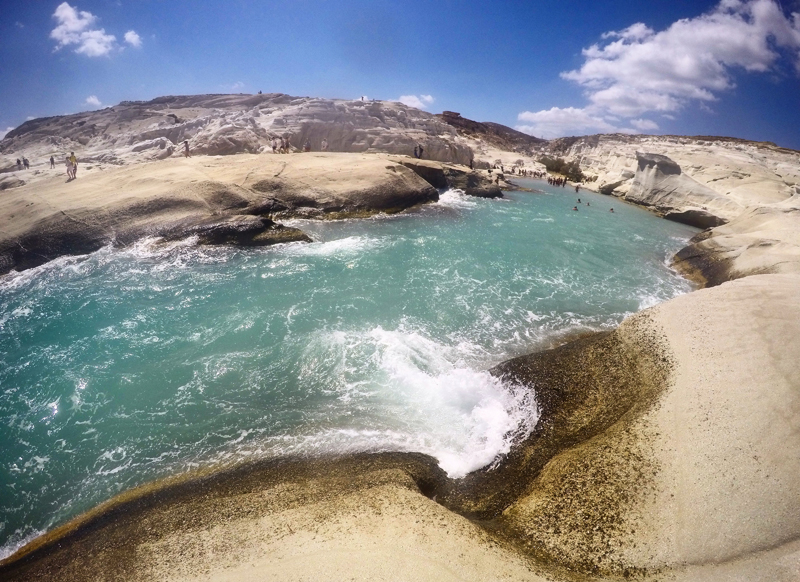 The first beach we went to was Sarakiniko. Located on the northern shore of the island, it was easy to reach by a public bus. Considering its rather unique "lunar" landscape, it feels a bit strange to call it a beach. The white volcanic rocks are easily compared to that of the moon, and they're incredibly beautiful, especially complemented by the turquoise Aegean Sea. There are no food or drink options on Sarakiniko, so I recommend bringing your own water bottle.
The public buses go between Adamas and Sarakiniko every two hours from July to September. Unless you plan to spend the whole day at the beach with other sunbathers, I'd say the time between any two buses is enough to explore Sarakiniko and its interesting landscape. The fare was €1.80 per way, and the tickets were issued on the bus.
Paliochori
Paliochori is located on the southern shore of Milos and can also be reached by a public bus. The fare was €1.80 each way. The buses go every hour, sometimes every hour and a half from Adamas. Paliochori has a lot more color to it than Sarakiniko—yellow, almost orange volcanic rock and sand—and looks quite vibrant against the clear water.
There are plenty of restaurant and bar options near the beach, which gives off a bit of a party vibe. Similar to Perissa on Santorini, visitors can choose lounge chairs with umbrellas for shade or simply sunbathe in a separate public area and get their own drinks from the beach bar. A must-visit when on Milos.
Kleftiko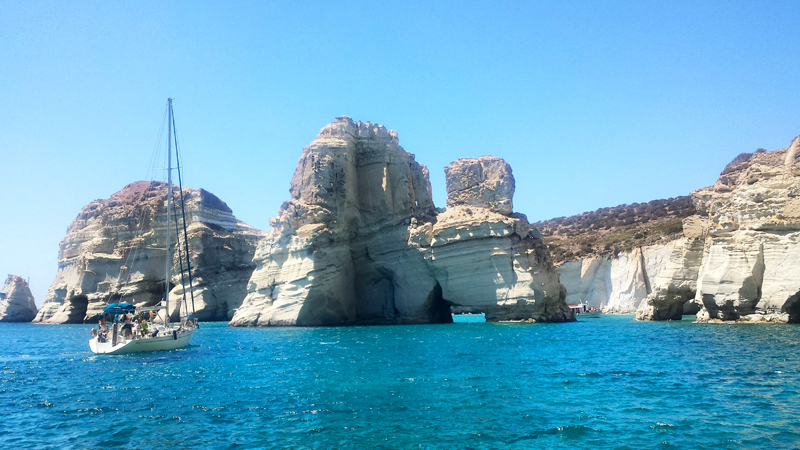 Located strategically on the very southwestern tip of the island, this one is actually an old pirates' hideout spot. When unsuspecting ships would approach Milos, the pirates would come out and rob the ships. The unique white sandstone rock formations can be reached by sea or possibly by a four-wheeler and some not-super-safe hiking (not recommended).
We booked a tour with a local company that included a whole day of sailing, unlimited drinks (water, beer), snacks and a lunch (Greek salad and pasta) for €60 per person. We stopped at a couple of other places along the southern coast before reaching Kleftiko and then spent a few hours there, snorkeling in the crystal-clear water and exploring the caves with the captain in his inflatable dinghy. A few other boats were anchored in Kleftiko at the same time, but it didn't feel crowded. The place is definitely picture-perfect, and the trip was worth every penny.
After spending 10 days in Greece, I was so impressed by its natural beauty (and history), the country has become one of my favorite destinations. I'd like to go back and explore other islands and beaches in the future.
Have you been to Greece? Which islands do you recommend visiting and why?