A summer vacation isn't complete without soaking up the sunshine and replenishing your body's supply of vitamin D.
Spending 10 days in Greece meant going to beaches, of course. However, no beach is the same, and the Greek Islands sure give their visitors plenty of options. I visited two islands—Santorini and Milos—and this isn't a comprehensive list by any means, just a few places I enjoyed.
Santorini
Before going to the beautiful volcanic island, I consulted with friends who had traveled there about things to do and see on Santorini, and they all said it's not known for its beaches. Having that knowledge in mind, I was pleasantly surprised with the beach options that were available. Sure, Santorini's romance is all about the caldera views and white and blue buildings perched atop the steep cliffs, but the island offers some beautiful beaches if you're willing to take the time to get there.
Red Beach
My birthday fell on one of the days we were in Santorini, which meant my boyfriend and I splurged a bit on our accommodations and stayed at a hotel with lovely sunset and caldera views. We stayed in the quaint village of Imerovigli, between the posh Oia and the busy Thira. Getting to any beach meant taking multiple public buses.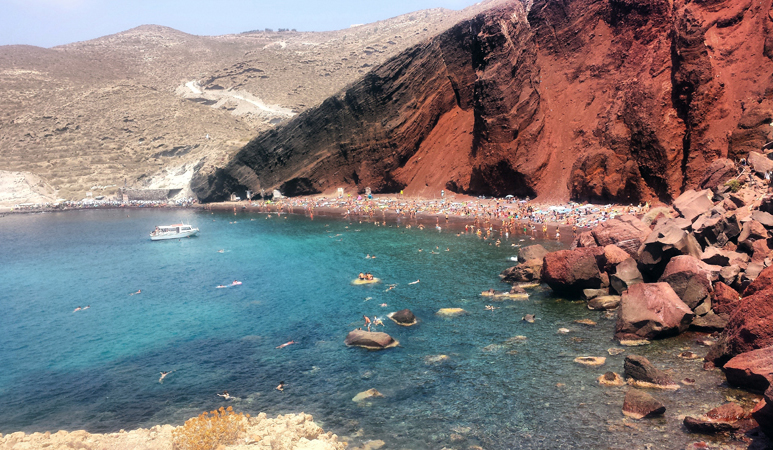 We went to Red Beach first, which is located near the village of Akrotiri, on the south side of Santorini. A local bus does not go from Imerovigli to Akrotiri directly. We had to change buses in Thira, and each bus ticket was €1.80.
After a short walk from the bus stop, the beach greeted us with a magnificent view of its vibrant red rocks and blue water. Although not long, the trek requires climbing steps and walking on rocky surfaces, so I recommend shoes for this one. Alternatively, if timed right, a boat can take visitors to the beach from the bus stop for €5 per person. The same boat also takes tourists to nearby White Beach and Black Beach.
Red Beach itself isn't too big, and it got crowded quickly (during our visit in August). Although some women weren't shy to sunbathe topless, the beach is definitely not for somebody looking for privacy. It isn't a sandy beach, and the pebbles get extremely hot under direct sunlight. Either a blanket or thick towels are required for sunbathing if you'd like to lie down. The sea was warm and pleasant. Staying hydrated is key, so I recommend bringing water with you as well as some snacks.
Perissa
A local bus does not go from Imerovigli to Perissa, either. Again, we had to change buses in Thira. In the summer, there's an express bus to Perissa and a much slower bus that goes in a roundabout way. Because the express bus was full, we made the mistake of taking the slow bus, and it took an hour from Thira! I recommend waiting for the faster bus. Even if it leaves the bus stop after the slow bus, it'd be in Perissa first. The bus ticket was €2.40 from Thira.
Perissa Beach is completely different from Red Beach. The sand on this beach is black and the pebbles also get hot, but it's a lot bigger and offers a variety of lounge chairs and umbrellas to visitors.
Much of the lounge area is sectioned off by cafés that also include service and full menus. Oceanfront chairs are the most expensive, and they get cheaper the farther back you go. Again, the beach is crowded during summer months, but there's a bit more privacy in your own area. With its laid-back ambience, Perissa is perfect for a lazy day by the ocean.
I wish I had had enough time on Santorini to check out its other beaches, but the two I visited were beyond my expectations. Stay tuned for the post about Milos, which is considered the Greek Island with the best beaches!