2014 Year in Review
-I backpacked through Cambodia and Vietnam for 5 weeks… and I'm still working on the trip report 😛
–I met Marissa, who is now a contributing author on the blog
-I visited a bunch of new countries including China, Cambodia, Vietnam, Thailand, Panama, South Korea, Guatemala, Denmark, Saba, Japan, and Hong Kong
-I ate a raw, still-moving octopus in South Korea and at a Michelin 2-Star restaurant in Tokyo.
-I visited a Washington State and Southern California for the first time.
-I did some crazy things with air tickets, and booked a few other mistake fares – mostly to be flown in 2015.
-I partnered with the Travel Education Network and will be teaching some awesome travel classes starting in 2015.
-I spent my birthday in Italy and Slovenia, Christmas in Hong Kong, and am in Kep, Cambodia for New Years!
Thoughts for Next Year
-I'm looking forward to visiting Africa for the first time [Egypt], and I am also hoping to make my first visit to South America.
-Oktoberfest!!!
-I am  planning to maintain my Hyatt Diamond status through either stays or nights (undecided at this point), and all other hotel status through credit cards. Depending on how much hotel staying I am doing, I might try to qualify for Hilton Gold again, but only if I am sure I can make Hyatt Diamond. I will probably not re-qualify for Kimpton Inner Circle, since they were bought by IHG – but only time will tell what exactly will happen there.
-I'll be doing more domestic travel, mostly related to the Travel Education Network, and my international travel schedule will remain pretty busy – I already have quite a few trips booked for next year, so far covering 3 continents, and I definitely have more to plan!
-2014 has been a crazy year, to say the least! I'm looking forward to 2015.
Statistics
Miles Burned: 298,479
Miles Earned [Through Flying]: 95,466
Cost of All Air Tickets: $3,384.31
Cost per Mile Earned: 3.55 cents
Flying 
Miles – 103,799
Segments – 80
Longest Flight – Detroit (DTW) – Seoul, South Korea (ICN) 6,628 miles, 13:36
Shortest Flight – St. Maarten (SXM) – Saba (SAB) 28 miles, 0:15
Total Airports – 51
Total Airlines – 19
Total Aircraft Type – 17
Total Routes – 71
Total Countries – 21
Maps –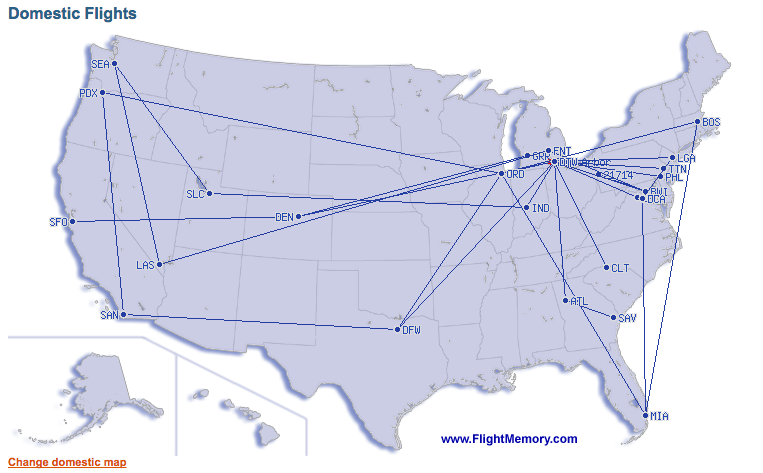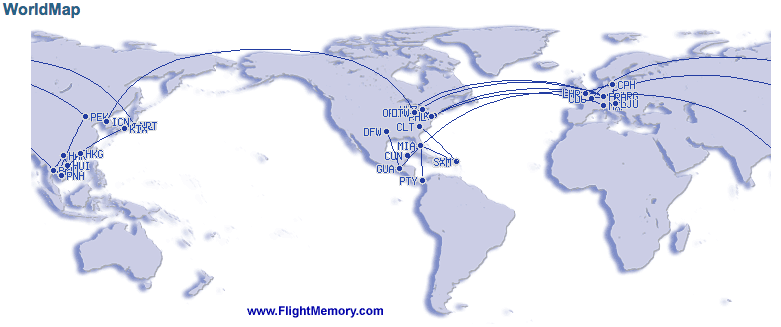 Status Achieved – Southwest Companion Pass; Status Match: Alaska Premier Gold 75K
Sleeping
Hostels – 24
Liveaboard – 1
IHG – 6
SPG – 3
Hilton – 1
Hyatt – 22
Choice Hotels – 1
Kimpton – 8
Marriott – 5
La Quinta – 2
AirBnB – 12
Other Hotels – 14
Bungalows – 13
Homestay – 2
Planes – 7
Busses – 4
Trains – 2
Camping – 5
Couchsurfing – 1
Jjimjilbang – 1
Total Nights – 134
Status Achieved/Maintained – Earned: Hyatt Diamond, Kimpton Inner Circle; Through Credit Cards: Club Carlson Gold, IHG Platinum