If you've ever seen the movie "Step Brothers," you've heard of Santa Catalina Island. It's located about 22 miles (35 km) southwest of Los Angeles and is part of the Channel Islands of California archipelago. About one million people visit Catalina Island every year, according to the Catalina Island Chamber of Commerce & Visitors Bureau.
You can reach the island a few different ways. Helicopter services are available from Long Beach, San Pedro, Burbank and Santa Ana. You can also reach the island by a passenger ferry from one of four mainland ports in Southern California: San Pedro, Long Beach, Dana Point and Newport Beach. I went with the ferry option and took the Catalina Flyer with a few friends to spend a day on the island.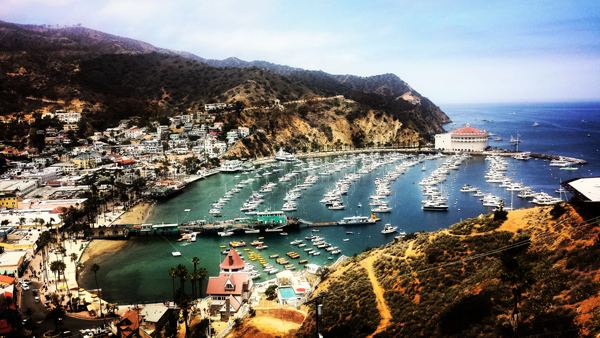 The Catalina Flyer departs once per day from the Balboa Pavillion at 9 a.m. and arrives in Avalon, the island's only incorporated city, at 10:15 a.m. If you decide to come back the same day, the ferry departs Catalina at 4:30 p.m. and arrives back in Newport Beach at 5:45 p.m. The cost is $70 per adult round trip or $35 one way, $53 per child round trip or $26.50 one way. The ferry holds about 500 people, and on the day I went (Saturday before Memorial Day), the ferry was at capacity. Depending on the season, you might see whales on the way! I got lucky and saw a couple of tails in the distance. When the crowd goes "Oohh!" in unison, you know there's something in the water.
We had some conversations with the crew on the way to Catalina and learned that many of them not only work on the boat but also at hotels in Avalon for a few hours during the time the ferry is docked at the island.
Once you reach the port, I recommend renting a golf cart. Even though the town is only about 1 square mile, its topography includes rather steep hills. You don't want to be hiking to those gorgeous viewpoints (and trust me, you do want to see those)! A guided tour is also an option, but if you prefer an independent kind of adventure, a golf cart is the way to go. A few different agencies that rent out golf carts, but the prices are all the same—$20 per hour or $40 for three hours. Keep in mind, you must be 25 years old to rent one of those.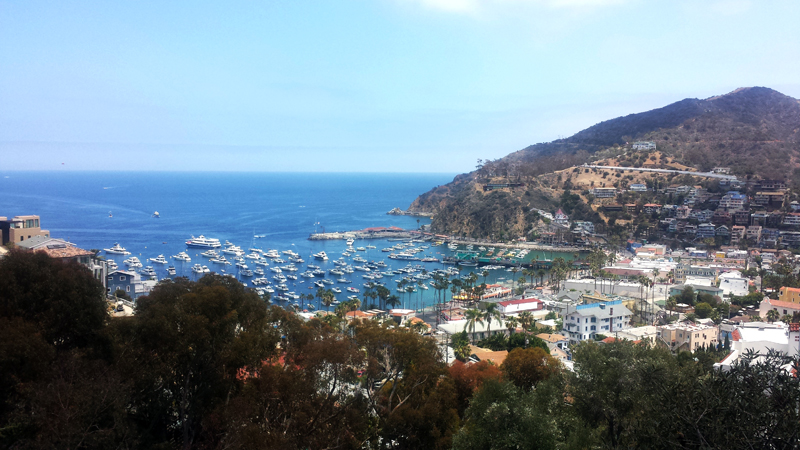 The area is quite popular among SCUBA divers and snorkeling enthusiasts. You likely will see the bright orange Garibaldi fish in the clear water where the ferries dock, but there's plenty of other marine life. Parasailing is offered as well as helicopter tours, zip lining, boating and miniature golfing. However, if you're not into any of those, the island offers a pretty good food scene, which I'm all about.
First thing's first, my friends and I headed to the Buffalo Nickel restaurant to taste a tourist favorite, "Buffalo Milk." It's not what you think. . .probably. It's an adult beverage consisting of vodka, chocolate-flavored liqueur, coffee-flavored liqueur, banana-flavored liqueur, and half and half topped with whipped cream and nutmeg. It was so yummy, I kept reminding myself there was alcohol in it. If you go there on your birthday, Buffalo Nickel offers a free meal.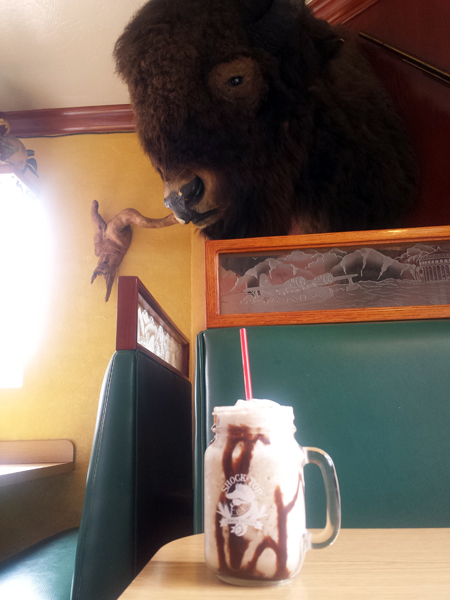 After cruising all over the island, we returned the golf cart and went exploring more restaurant options. We saw a few people walking out of a restaurant near the beach, and they were wearing funny hats. Of course, we had to see what that was about! We ended up at Luau Larry's, home of the famous Wiki Wacker. Now, what the heck is a Wiki Wacker? Well, it's a hat woven with grass straws. It comes free with an order of the self-titled cocktail that is mixed with light rum, brandy, pineapple juice, orange juice and grenadine. If you ask me, the drink is just a bonus! We ordered some oysters, wore our hats and enjoyed ourselves at Larry's.
Right before leaving there, we asked the waitress where the best seafood on the island was, and we headed toward my new favorite restaurant—The Lobster Trap! The friendly waitress at Larry's told us The Lobster Trap had its own boat out on the ocean that brings its own catch of the day to the table. The day we went, the restaurant offered fresh yellowtail, halibut and my favorite – swordfish! My goodness, it melted in my mouth so fast, I forgot to blink.
Unfortunately, by that point, it was time for us to head back to the ferry terminal to catch the Flyer back to Newport Beach. Catalina Island makes for such a quick, fun getaway, you forget you're still in California. In fact, it looks like a mini-Europe with its gorgeous vistas, private yachts and unique architecture. An overnight stay might be in my future someday.