Disclosure: There are affiliate links contained in this post. If you choose to use them – thanks for your support!
Skyroam is a mobile hotspot that provides internet access via the cellular network in many countries around the world. I work remotely, and on my current trip to Central Asia, I was concerned about having the wifi access I would need to do my work. I did a little bit of research, and at about $100 Skyroam seemed to be the most cost-effective option.
Surprisingly, the internet had been relatively manageable, at least up until the day I am writing this. I'm going off the grid for two days and had a few things I needed to turn in and some emails to send. When I arrived at my hotel, the internet worked for about five minutes before cutting out for over an hour. That just wasn't going to work.
My Skyroam came with five passes loaded onto it, and I really hadn't tested it out yet, so it was about time.
Honestly, my absolute first experience with Skyroam wasn't that good. That was while I was setting it up back in the US. The instructions were mediocre and I was frustrated. I'm glad to report that that is the exact opposite of how my first in the field use of Skyroam went.
I turned the unit on and it connected very quickly – unlike when I had turned it on in the US.
Speeds were not fast, but reasonable for the work that I needed to get done which mostly consisted of writing blog articles and uploading and downloading a few photos. The speed test below was performed from Nukus, Uzbekistan.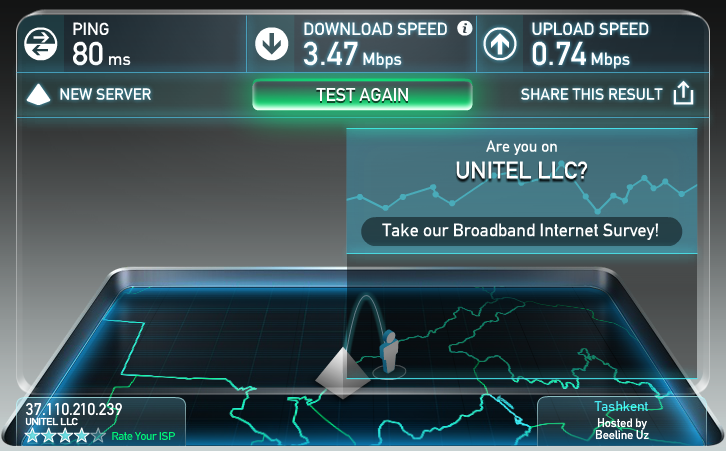 After finishing up the work I needed to get done, I had plenty of time left on my 24-hour Skyroam pass. It had been a few days since I called my parents, so I gave them a call. VoIP through Google Hangouts worked very well on Skyroam – as good, if not better than all of the internet I have encountered in Uzbekistan so far.
Through the beginning of July, if you purchase Skyroam through my invite link, you will receive $30 off the purchase price (if you do, I'll get three 24-hour passes in exchange).
I've only used it once so far, but if Skyroam always performs this well, I'm completely sold! I'm looking forward to sharing more updates as I test out Skyroam in other parts of the world.