Iceland is considered a destination for an adventure seeker, and driving around the island in the winter can be an adventure in and of itself!
I was fortunate enough to spend a week in the mysterious country between the North Atlantic and the Arctic Ocean for a week during the 2016 New Year's celebration. The Aurora Borealis, or the Northern Lights, was the main draw to a winter trip (more on that later). Of course, a vehicle is useful for someone who wants a bit more freedom in his or her travels. If you were to ask me now whether you should rent a car during winter in Iceland, I'd immediately yell "DON'T!" and try to beat the stupid out of you, but if you're anything like me, you'd do it anyway because. . .you know. . .it's an adventure!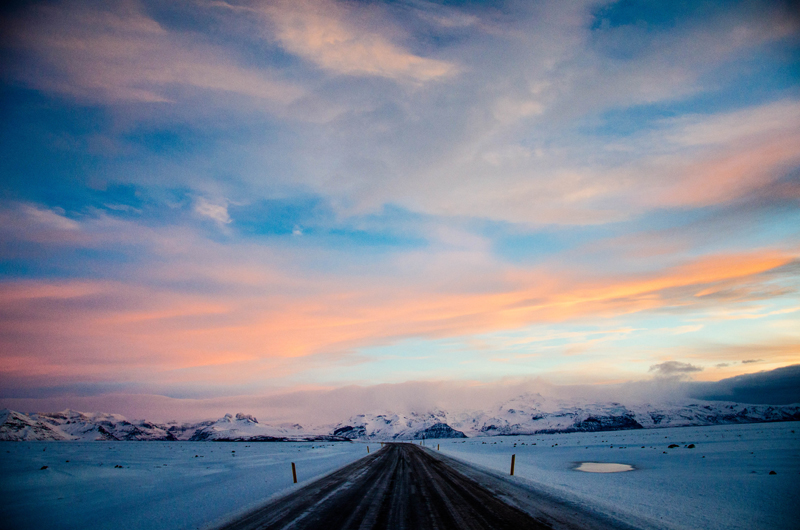 Rent a 4WD vehicle.
First of all, because you don't want to end up in a ditch, I would recommend renting a four-wheel, if not an all-wheel, drive vehicle. It will give you more traction control to help you navigate the Ring Road, aka Route 1. Most rental cars include winter tires and a snow scraper, so that's a plus.
Use your time wisely.
Secondly, give yourself plenty of time as the weather can be an unpredictable foe. During a span of one hour, you can experience a snowstorm, strong winds, sunshine, light snow, back to wind AND snow, back to a calm, sunny day. And here I thought the weather in Utah changes too frequently. An important thing to note here is that, because of Iceland's proximity to the North Pole, only about five hours of daylight is available in early January, so use your time wisely.
Once, my friend and I embarked on a trip from Reykjavík to the Golden Circle, an ultimate tourist trail full of waterfalls, geysers and gorgeous vistas, which is relatively easy to reach. . .unless it's winter time. We set our Google Maps destination to the Gullfoss, Iceland's most famous waterfall, which is one and a half hours away in good weather, climbed into our rental Subaru Forester and left the hostel.
Unfortunately, during our drive, a massive snowstorm rolled across the terrain and made it hard to see anything more than a couple of feet in front of us. If I showed you a blank, white 8.5×11 sheet of paper, it would sum up the view around us! Have you ever been inside a snow globe? Me neither, but I imagine the experiences are similar. If only my mother knew the conditions we were driving in, she would kill me.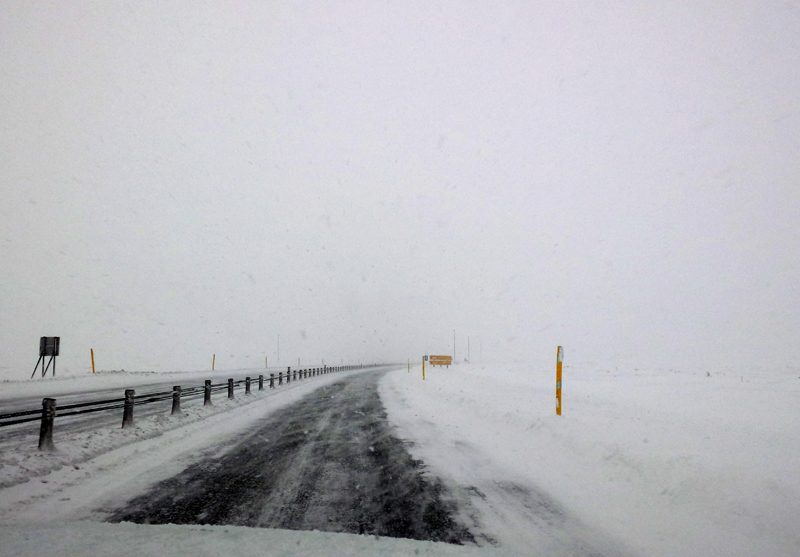 Two hours into our journey, Google was still showing another 30 minutes to the destination. It was time to fuel up and hold a vote. At a gas station in a little town, we ran into a couple trying to make the same trip, only in a small economy car. Honestly, I have no idea how they made it that far. The obvious decision was to turn around and go back to Reykjavík, considering the short day length. Of course, about 20 minutes after we headed back, the sun came out, and the weather was beautiful the rest of the way. You can never be too safe, though. We returned to the Golden Circle the next day and had no problem seeing the beautiful waterfall as well as the Strokkur Geyser, a hot-water gusher that spouts a tall column of water every 10 minutes or so.
Fuel up frequently.
That brings me to my next piece of advice. Make sure you fill up your tank during the day when gas stations have attendants inside. Many small gas stations along the Ring Road are just a single pump that operates by accepting a PIN-enabled credit card. There's no one to accept cash. I personally have only chip+signature credit cards that do not charge foreign transaction fees, so I was not able to use any of those to pay for fuel. Many European vendors accept those fine, but few, as in the case of these small gas stations, accept only chip+PIN cards. Even when gas stations had workers inside, they instructed me to purchase the prepaid cards they sold, which I could then use at the pump.
Another time my friend and I went on an independent Northern Lights hunt, we left the city too late, and most of the gas stations were closed. Luckily for us, a gas station located near our hostel was open around midnight and we were able to drive beyond the city limits with a full tank. Not so luckily for us, we did not see any Northern Lights that night. . .or any other night for that matter. Bummer, right? On the bright side, Iceland offers plenty of other sights to see.
Use a map.
No matter your destination, you should have a map with you. If you are on one of T-Mobile's Simple Choice plans, you can travel most of the world without worrying about roaming charges. In that case, you have easy access to Google Maps (which was also helpful while driving in New Zealand). If you're with another carrier, the app also works offline when you download map areas to your smart phone for guidance in advance. However, a phone can die quickly, especially when you take lots of photos of the breathtaking landscapes. When all else fails, as crazy as it sounds, a good ol' actual paper map will do the trick.
Keep the rental agreement handy.
I cannot recommend the next tip enough. If there's anything, and I mean anything, wrong with your rental car, do not hesitate to contact the company that provided you with the vehicle. Several days into our trip, my travel companion and I noticed a weird noise the Forester was making. After calling the phone number on our rental agreement, we took the car into one of the offices located in Reykjavík to have it checked out, and it turned out, there was a problem with the BRAKES! We were given a complimentary upgrade to a Toyota Rav 4, and off we went to explore Vík, two and a half hours southeast of Reykjavík, where we spent three nights.
I'm no longer saying do not rent a car in Iceland during winter, but I cannot stress enough the importance of planning ahead and being extra careful and prepared for the inevitable force majeure while on the road.