The Dutch discoverers called it Nova Zeelandia. "Lord of the Rings" director Peter Jackson and the trilogy's fans call it Middle-earth. To the rest of us, this divine land in the Pacific is known as New Zealand.
Words simply cannot describe the beauty of the landscapes of the country's South Island. Every road, every turn, leads to something superb: a lake or a mountain or a field of wildflowers (in front of the lake in front of the mountain), and I strongly recommend taking a driving holiday through this exquisite land.
Christchurch
Most likely you will fly into Christchurch, the largest city on the South Island, aka the Gateway to the Antarctica. The city was rattled by a series of violent earthquakes in 2010–2012, but it's rebuilding rapidly, especially in the city center. Take a stroll through the 75-acre (1.61 km2) Hagley Park or the innovative Re:START outdoor mall, which consists of colorful shipping containers housing coffee shops and retail boutiques.
Once you get past the initial shock of driving on the left side of the road (unless you're accustomed to it in another "leftie" nation) on a one-lane undivided highway, the South Island opens up to pretty scenery and plenty of activities for an adventure seeker. I tried to follow cars in front of me whenever possible, especially when making right-hand turns in the city, which for some reason created lots of confusion in my head.
Dunedin
The next stop you'd likely want to make is in Dunedin, nicknamed "Edinburgh of the South." You can head south along the coast, which would take slightly longer than four hours, but I recommend taking an inland route guaranteed to inspire countless oohs and aahs at every turn. Although significantly longer, the drive will take you past Lake Tekapo, Lake Pukaki and Mt. Cook, so it is worth taking the extra time. I never knew lakes of such a deep, clear turquoise hue existed in real life!
Another thing you will notice is an abundance of sheep farms. They're EVERYWHERE! On the hills, on the plains, in front of barns, on the hills behind the barns… So cute and delicious-looking! There are about seven sheep per person, according to an article published by The New Zealand Herald in February 2013. That is a lot of la-a-amb and sheepskin boots!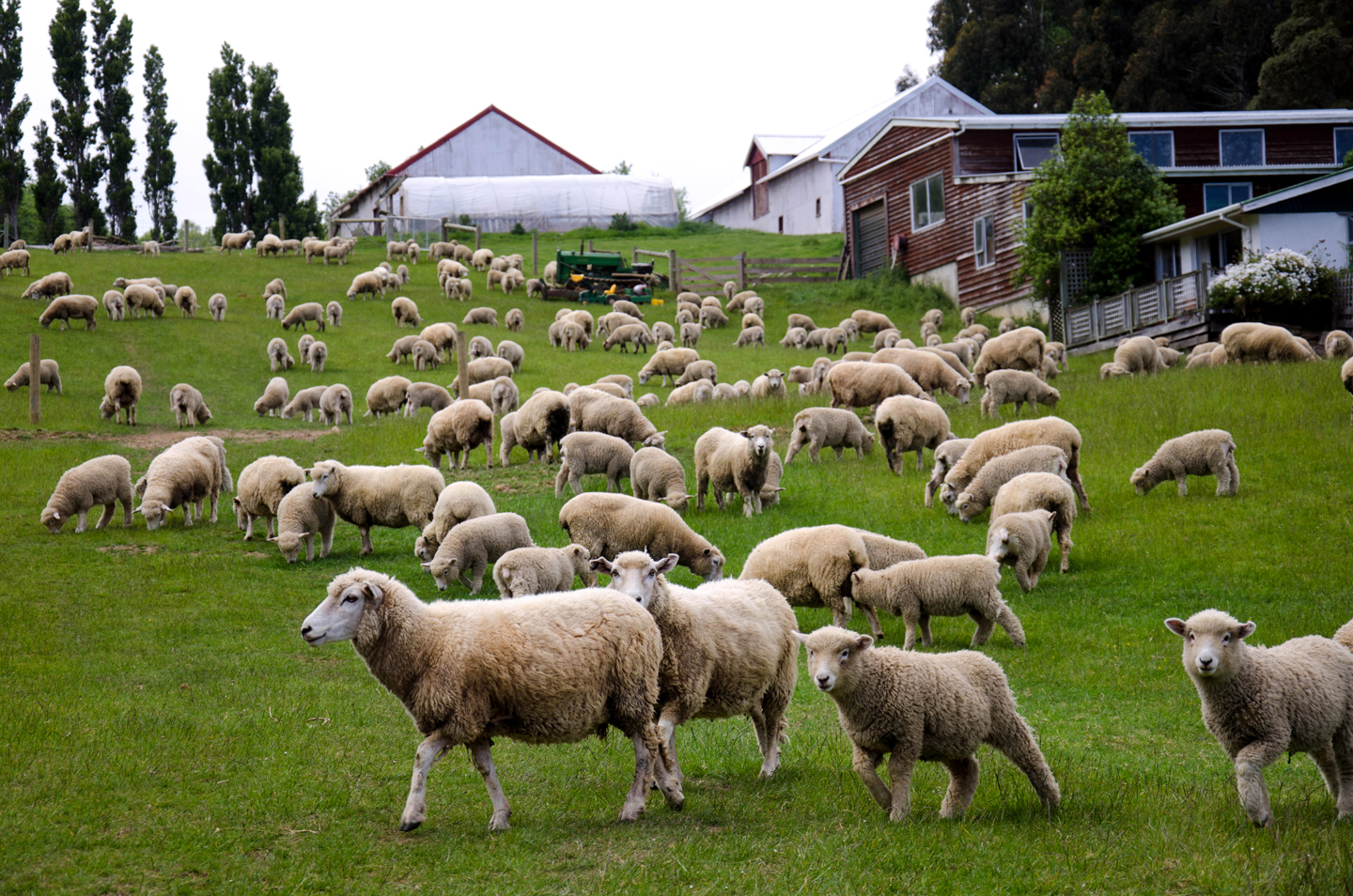 Once in Dunedin, take a drive to the Otago Peninsula, home to many kinds of wildlife, including sea lions, blue penguins and albatross. The peninsula is mainly of volcanic origin, making for a lovely landscape, with the Taiaroa Head lighthouse on top of an impressive cliff at the end of the peninsula overlooking the harbor. Also, within the city limits, on the ridge of the Otago Peninsula, is the century-old Scottish-style Larnach Castle, New Zealand's only castle. It's worth a visit for its award-winning gardens.
If you have another day in the area, I recommend checking out the Moeraki Boulders, located about an hour's drive north of Dunedin on State Highway 1. The spherical mudstone boulders scattered on a stretch of Koekohe Beach are unusually large, about 5 to 7 feet in diameter. Visit during low tide so you can sit on top of the boulders, climb inside the ones that are cracked or simply take photos next to them for scale. If you're fond of alienesque stuff, you'll find these fascinating! Upon returning to Dunedin in the evening, make a stop at Speight's Brewery in the city. Popular among locals and travelers alike, the brewery has about a dozen of beers on draft and a delicious menu. Lamb, anyone?
Te Anau
The itinerary brings many travelers to Te Anau, population 1,911 (2013 census), a little town in the Southland Region. Now, why on Earth would you go there? Well, the town lies just outside of Fiordland National Park and is a gateway to the most spectacular vistas, including Milford Sound, New Zealand's most famous tourist destination. The sound is actually a fiord, located about 75 miles (118 km) of winding mountain road from Te Anau, and the drive there is gorgeous!
I recommend arriving before noon so you can take one of the tour boats into the fiord for a closer look at waterfalls, rock formations and wildlife. Milford Sound was my most anticipated part of the "Kiwi Program," so I made the mistake of being impatient and driving all the way there from Dunedin, which is at least six, or more, hours of driving. By the time my travel companion and I arrived there, most of the boats had gone and the cafes were closed. We hiked in the area for about an hour, took photos and returned to Te Anau to spend the night.
Queenstown
Queenstown, the adventure capital of the world, is about two and a half hours away from Te Anau and is beautiful! (I sound like a broken record, but I cannot deny everything on the South Island is magnificent, or whatever other word from a thesaurus for "beautiful" you prefer.) Whether you like whitewater rafting, bungee jumping, snowboarding, skydiving or mount biking, this is the town for you!
Take a ride on the Skyline Gondola for a (ready?) MARVELOUS vista of Lake Wakatipu, visit Kiwi Birdlife Park to learn about the nocturnal kiwi birds or take a dive off the Kawarau Gorge Suspension Bridge, the original home of bungee jumping. The fall is about 141 feet, or 43 meters! Unfortunately, I did not try the activity for myself because I'd gone skydiving in Ogden, Utah, a few months prior to my trip to New Zealand. I figured I'd had enough adrenaline rush that year. Spend a few days in Queenstown. There are plenty of things to do and see.
So, after 1,460 miles (2,350 km), I had seen some of the most stunning sights New Zealand has to offer—and I haven't even been to the North Island yet! Worth mentioning, gasoline in New Zealand is expensive, about $5.25 USD per gallon (May 2016). You almost can hear Gandalf's "You shall not gas!" Definitely something to consider before taking a week-long road trip.
If you haven't already guessed, I absolutely loved Middle-earth, cannot recommend it highly enough, and recent fare sales out of Los Angeles (remember those $250 round-trip flights last month?) make this far-flung destination within reach. It is easily in my top three of favorite countries visited, and the North Island is on my bucket list.