With Amtrak changes looming on the horizon it was time to pull the trigger and act on a redemption I have been thinking about for quite some time now.
Through the end of the year, Amtrak is operating on a zone-based system with the US divided into three zones: Eastern, Central, and Western.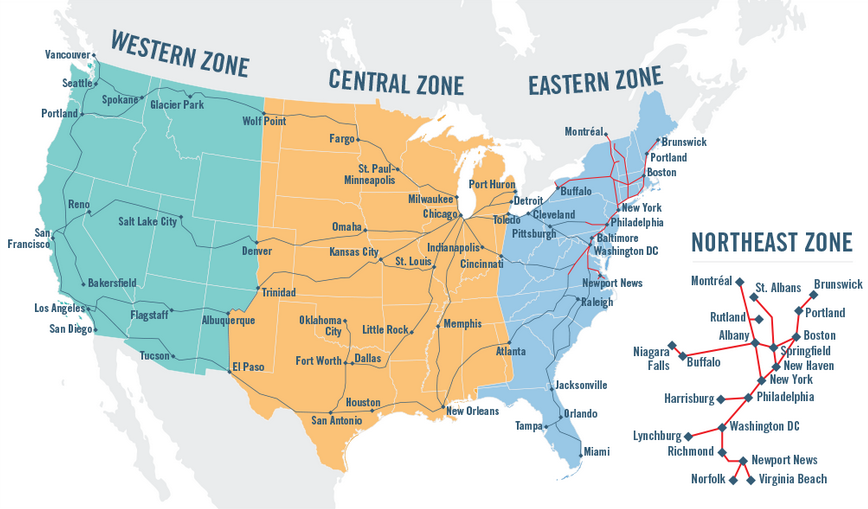 There are quite a few great things about Amtrak's program. I'm a big fan of their 'special routes' in the midwest for my semi-frequent travel between Ann Arbor and Chicago… that 1,500 point redemption will be sorely missed by me.
But, the real value lies in long-distance bedroom and roomette travel. For travel within one zone a bedroom costs 25,000 points and a roomette costs 15,000 points. Note that the cost is for the room and a bedroom can fit up to four people, while the roomette can fit up to two.
My Amtrak Redemption
I've had my eyes on the route from Denver to Glacier National Park via the west coast for quite a while now, and it was time to get it booked! To book roomette and bedroom travel, a call to Amtrak is in order. At first the lady I was talking to routed me though Chicago and all I could think was 'oh no! I already transferred my points!' With a quick request to check routing via the west coast she was able to pull something up, but told me that it would have to be booked as two awards: one from Denver to Emeryville, CA and a second from Emeryville to Glacier National Park at a cost of 25,000 points each, 50,000 points total. That wasn't what I wanted to hear either!
She was able to go check with a manager and get the rate of 25,000 points for the entire journey approved (though I did have a backup plan with some different train options in hand had she not been able to make that happen).
All in all, I am more than thrilled with my itinerary. Here's what it looks like.
Denver to Emeryville: 33 hours 5 minutes on the California Zephyr
Emeryville to Portland: 17 hours 28 minutes on the Coast Starlight
Portland to East Glacier National Park: 16 hours 9 minutes on the Empire Builder
Total: 66 hours 42 minutes on Amtrak trains in a Bedroom for 25,000 points for two people (and over 10 cents per point in value!)
To give you a more visual idea of this route (note that this is driving directions, so just an approximation)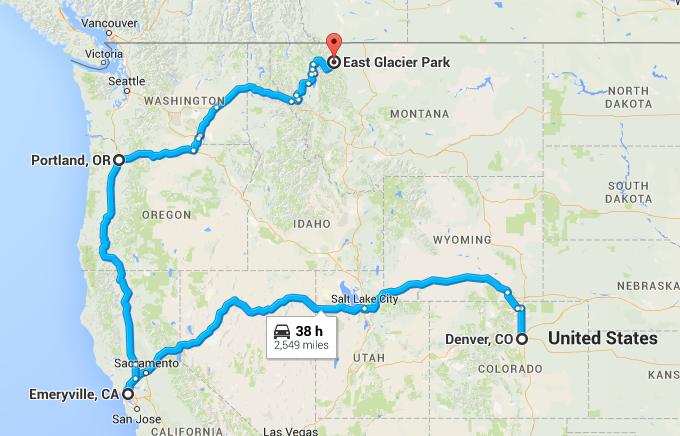 Now, I do have the option to use Sacramento, CA as a transfer point instead of Emeryville and spend four less hours on the train (and time in Sacramento). I may decide to make this change later on, but for now I wanted to maximize my train time since I don't see myself ever shelling out $2,715 (or anywhere close to that!) for two people to take a train journey.