Being able to try new, different, weird, and/or traditional local foods is one of the reasons why I love to travel. I always have a few items on a list of things to try when I'm traveling, and usually end up trying things that aren't on that list too. Here are my top five favorite foods in Asia that I've tried (in no particular order) as of August 2015.
Tea Leaf Salad – Myanmar
Tea Leaf Salad (Lahpet Thoke) is made from fermented tea leaves, crispy peanuts, crunchy beans, sesame seeds, fried garlic, dried shrimp, and fresh tomatoes. Sometimes more Americanized tea leaf salad also contains ice burg lettuce. The salad can range from not spicy at all to the-inside-of-your-mouth-is-burning-off spicy; even while I was in Myanmar I experienced that range of spice. Tea leaf salad may not sound the most appetizing, but the flavors go together oh-so-well. Burma Superstar located in the Bay Area, makes a very good tea leaf salad.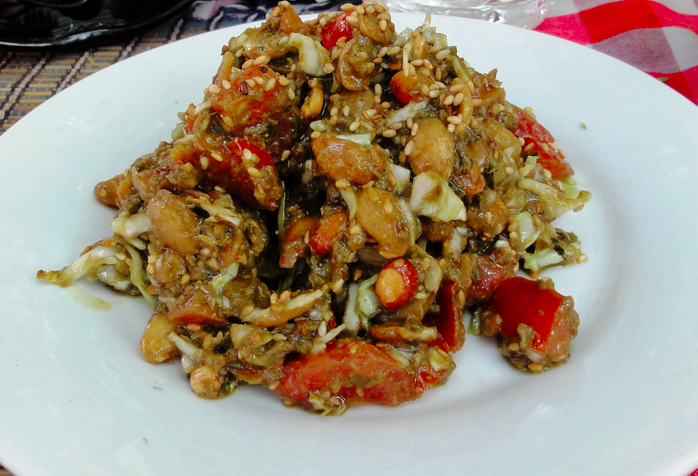 Raw, Still-Moving Octopus – South Korea
This is definitely one of the most adventurous things I have eaten so far during my travels, and I have to say, it was a pretty weird, but awesome sensation! Since octopi are cold-blooded, when they are chopped up they keep moving for a while, and in South Korea it is served while it is still moving! I had a lot of fun trying food in Korea.
Durian – Malaysia/Thailand/Singapore/Cambodia (+others)
Durian… what to say… you either love it or hate it, and I definitely love it! My first experience with durian was in Cambodia, but my post extensive experience with the fruit was on a 7-day durian tour of Malaysia this past summer with Lindsay of Year of the Durian. It was amazing to be able to try so many different types of durian within such a short period of time! If you're a durian lover, rumor has it that she'll be offering another tour next summer…. so keep an eye out!
Portuguese Egg Tarts – Macau/Hong Kong
Here's an example of something I didn't set out to eat… in fact, I didn't even plan on going to Macau until the day before I went! I saw these baked items in nearly every food shop I walked by in Macau (and had seen them some in Hong Kong too) and my interest finally got the better of me and I had to try them! It was totally worth it, they were delicious. I later tried one in Hong Kong, but they weren't as good… maybe I need a bigger sample size. These treats can also be found in Portugal, and are known there as Natas.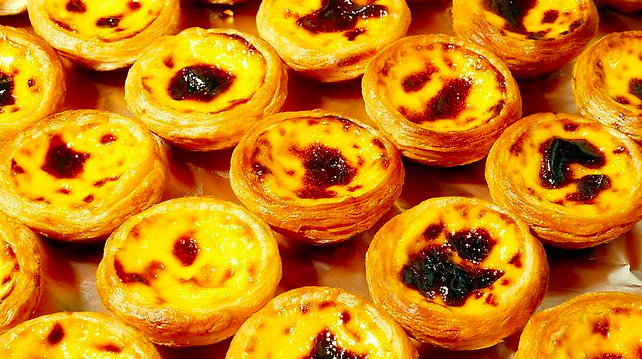 Cambodian Black Pepper Dip – Cambodia
Last, but surely not least, this one is a bit different than the others on this list in that it's not really a food all on its own. Rather, Cambodian black pepper dip is often used for seafood and meat, though it is good on anything (or by itself!). I first came across this dip at the Crab Market in Kep, Cambodia, one of my favorite places in the world. It's pretty simple to make consisting mainly of pepper, lime juice, salt, and sugar. In Cambodia, it's always Kampot Pepper and palm sugar that's used, but it should work with any type. I'm convinced that some places in Cambodia also throw in a pinch of MSG — but that is not something I have been able to confirm.
What are some of your favorite foods you've had while traveling, in Asia or elsewhere? Please share in the comments!