The first stop on my Canada Hopper was Prince Edward Island. I didn't know much about the island, and I unfortunately haven't read any of the Anne of Green Gables books, so my starting point for what to do when I got there mainly consisted of get to the hostel and see how it goes.
During the brief bit of research I did prior to the trip, one thing that caught my eye was biking the confederation trail, but since I didn't know what the weather would be like, where I would put my stuff, and other logistical details, I held off deciding whether or not to actually do it.
Well, within approximately five minutes of arriving at my hostel and meeting a new friend, Cynthia, who was already planning on going biking the following day, I decided I would go along on a Confederation Trail cycling adventure too!
We planned out a pretty ambitious route for the following day… Just under 100 miles in total.
Well, we went to rent our bikes as soon as MacQueen's Bike Shop opened. Let me just add – our rental bikes were beautiful! It was a great bike shop with very knowledgable staff, and I would rent from them again in a second. We rented their 'Deluxe Bicycle' for $40 CAD per day. It was basically a road bike with hybrid tires, because the trail isn't paved.
Well, the rental process took a little longer than expected, and a third friend joined us just for the first day… so we got a little bit behind schedule.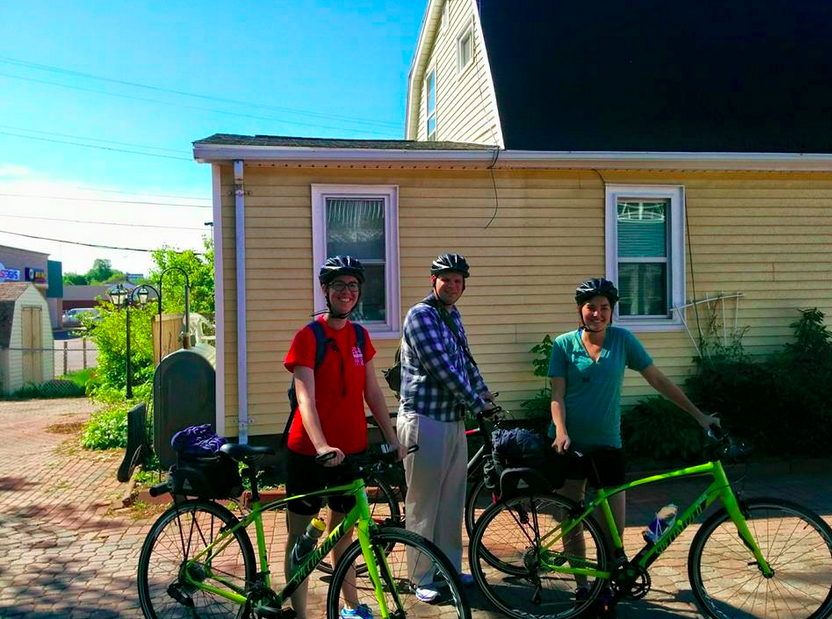 And then we decided to meet up with a friend (who had a car) for lunch in Cavendish! Well, before we knew it, it was past 2:30pm and we still have about 2/3 of our ride to go… so we started to get a move on! But… then the headwind came. After pushing through that for about 30 minutes, we realized that there was pretty much no way we were going to make it all the was to Souris in any reasonable amount of time (read: by dark). At that point we were no longer on the Confederation Trail, so we figured we needed to find a ride back there.
We met a cute old couple with a pick-up truck that was headed that direction and were willing to give us a ride. They chatted with us the whole way and gave us some recommendations for things to do while we were on the island. Now that we were back on the trail, we still had quite a distance to go (55 miles?) but we were feeling a little bit better about it. We continued chugging along, but realized even being on the flatter, less windy trail, that we still probably weren't going to make it by dark. We set an end goal of Mt. Stewart, which was still another 35 or so miles outside of Souris. At that point we were going to either try to find another ride, call the B&B we were staying at, or call a taxi to get us the rest of the way. The last three kilometers into Mt. Steward were absolutely brutal, with deep gravel all over the trail that basically acted as quick sand, plus the mosquitos were starting to get quite bad. We were really excited to make it to Mt. Stewart after that.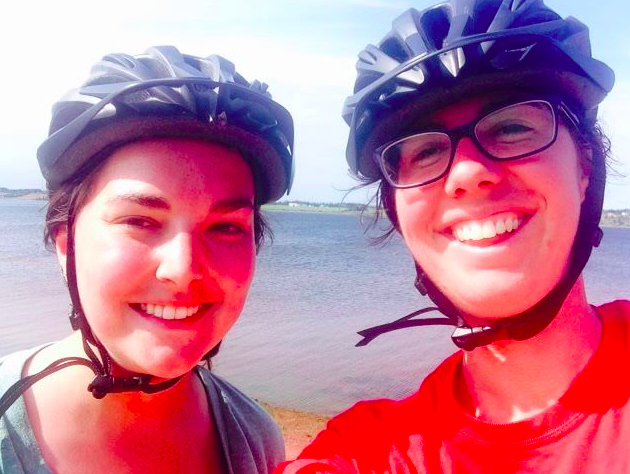 There was a gas station very close to where the trail hit the town, so we went there in hopes of finding another ride. A mom and her daughter, who was our age, were willing to get us another 26 kilometers down the road because they had some time to kill before the daughter's soccer game. They were life-long PEIers that lived on the west side of the island and only came over to the east side for the occasional soccer game. They dropped us off, still nearly 30 kilometers outside of Souris, but it wasn't five minutes before we found our final ride into town. Erine, who grew up in Souris, was back from Alberta to help his good friend's daughter move back home from Alberta to PEI. He drove that whole distance with her stuff… what a good friend! As it turned out, he also knew the owners of the B&B we stayed at, he had been good friends with their son in school and hadn't seen them in over 20 years! Woah, what a small world.
The total distance we cycled came to about 80 km.
And that was just day one.
Lo and behold, the next morning when we woke up, we both had really sore asses. So, instead of setting off on our bikes bright and early, we decided to spend some time exploring town, and then try to find a ride back to Charlottetown later in the day. Souris was a nice little town to walk around, and the main beach in town is great for finding sea glass! After walking around for a couple of hours, we figured we should be on our way.
Ride finding time again!
Well, let's just say it didn't go so well… After about 30 minutes with no luck, we were thinking that we had used all of our luck the day before. But, it wasn't so! Cynthia's boss texted her (they had all been in PEI for a conference and many took a day or two of vacation time after) and asked if we were in Souris! Him and his wife both were, and they had a vehicle with room for bikes! But, they weren't planning to leave for another couple of hours. We decided to start biking and see how far we were able to get. We made it 40 kms, including a snack stop on the side of the highway and stop for for an incredible lunch at Rick's Fish and Chips in St. Peters before Cynthia's boss picked us up.
All things considered, we were pretty happy with our 120 km bike ride over the course of two days, and we met a bunch of great people along the way! Cycling the Confederation Trail on Prince Edward Island is a fantastic way to get around (just maybe be a little less ambitious than us)!
Photos courtesy of Cynthia.