I'm taking a page out of Drew's (Travel Is Free) book here and writing about another possible hopper itinerary using miles.
The inspiration for this trip comes from the fact that ANA's award chart will be changing in a couple of months, and they will no longer allow an amazing four stopovers on each ticket. Canada is generally an expensive place to fly around, so a hopper itinerary can create pretty great value.
With the exception of Air Canada pricing short-haul domestic flights at 15,000 miles round trip, low-level flight prices are the same as your standard flights within the US.
Considering the fact that both OneWorld and SkyTeam have a pretty small presence within Canada, we are solely going to focus on a Star Alliance Hopper, since hops would be so limited with the other two alliances.
Canada Hopper with Star Alliance
The key to making the hopper itinerary valid for stopovers and open-jaws is to start the itinerary in the USA (or another country other than Canada).
Since Air Canada is a Star Alliance member, we have a ton of options to choose from, and in fact, all of the flights are likely going to be on Air Canada for this hopper itinerary. Let's take a look at our city options…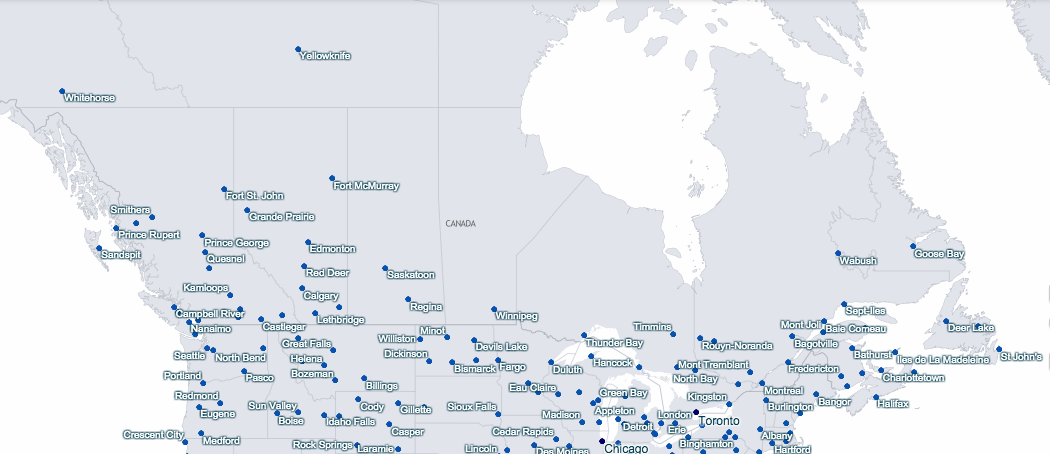 There's a little bit of the US included in this picture… but you get the idea. There are quite a few places where your Canada Hopper can take you.
So now, who's miles to use?
ANA
ANA is changing their award chart in April 2015, but until then, they are a distance based airline. Here's their pricing structure.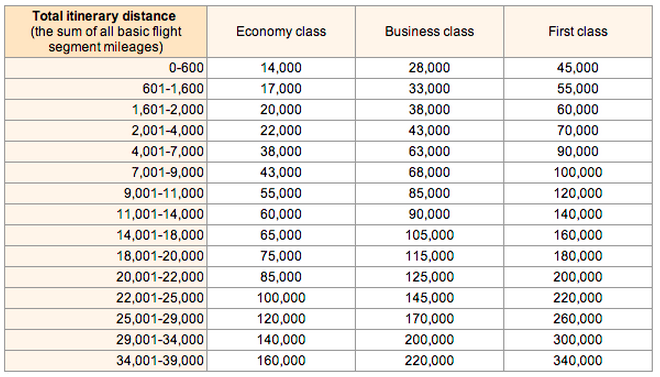 ANA is a transfer partner of American Express Membership Rewards (1000:1000).
The really fantastic thing about ANA's current award chart is that four stopovers are allowed on a round trip. Four stopovers is amazing. Ideally, I wanted to come in right under the upper limit of one of the price bands, most likely the 38,000 or 43,000 band. So, I started playing around with availability and looking at where I most wanted to go. I knew I wanted to make it to at least one of Yellowknife or Whitehorse, since those are some pretty far off locations that are a little more challenging and expense to get to otherwise.
I have to add in here, living near Detroit is a huge bonus for me here, since it allows me to start in the US so I can activate my stopovers with just a short flight to Toronto.
Here's what I came up with…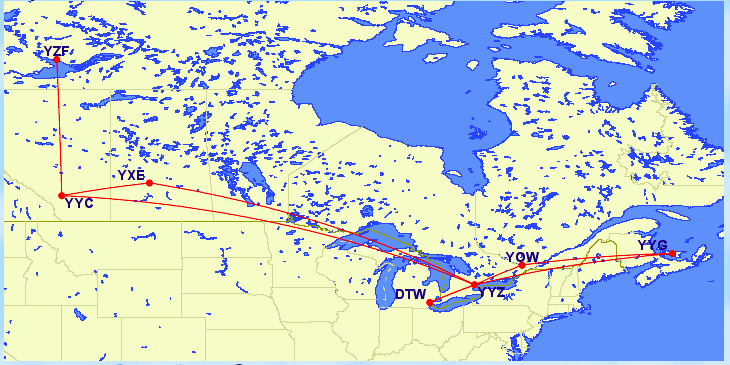 Now, I was pretty sad when I first plugged this all into GCMap to get the total distance flown… 7,037 miles. 37 miles over the lower limit of the 44,000 mile band. Damn. I thought of any way I could cut out those 37 miles without getting rid of the two stopovers I was most excited about: Charlottetown (YYG) and Yellowknife (YZF)… and I couldn't do it. So, what the hell, I decided to price it out on ANA anyway… and what luck I have! It priced out at the 38,000 mile level, due to difference in flight distance calculations between GCMap and ANA.
So, the stops will be:
1. Charlottetown (YYG)
2. Yellowknife (YZF)
3. Calgary (YYC)
4. Saskatoon (YXE)
The price including all taxes and fees ended up being 38,000 ANA Miles and $197.40
The cost of these tickets had I paid cash would have cost over $2,000. Even considering the taxes and fees, that's pretty phenomenal value (over 5 cents per point).
Other Potential Star Alliance Redemptions
Lufthansa
Two stopovers and two open jaws are allowed. This one has the most potential after ANA, but unfortunately, you need to be flying between at least two zones to be eligible for a stopover on your itinerary. The US and Canada are both in the North America zone, so a Canada Hopper with Lufthansa Miles will not work if you are originating in the USA.
Air Canada
Two stopovers or one open jaw and one stopover are allowed is what we're used to being allowed with Air Canada, but for flights within Canada or between Canada and the US only one stopover or one open jaw is allowed. That's going to be a very short hopper!
Singapore
Only one stopover is allowed for free, but up to three additional can be purchased for $100 each. Definitely some potential here, but flights within/between Canada and the US are excluded. So a Canada Hopper with Singapore Miles is also nixed.
United
One stopover and two open jaws are allowed, which alone doesn't make United Miles a great option for a Canada Hopper. Additionally, since Canada and the US are in the same zone, each segment will price as a one-way, which doesn't make for an inexpensive hopper.
Conclusion
The only great value for a hopper itinerary in Canada is using ANA miles. It's easy to make an itinerary with a cost between 22,000 and 43,000 miles by sticking to a smaller region of Canada or flying around the whole country.
The taxes and fees seen with flying Air Canada are higher than we are used to seeing in the US, and if you're talking 6-12 flights for a hopper itinerary, those taxes and fees definitely add up! Keep that in mind. For my 11 segment itinerary, the carrier imposed fees came to $197.40.
Considering how expensive it can be to fly around Canada, using ANA Miles is a fantastic deal! The flights I booked would have otherwise cost over $2,000.
Unfortunately, ANA is changing their award program effective April 12, 2015. After this point, four stopovers will no longer be allowed. Under their new chart, pricing will no longer be by distance, and only one stopover will be allowed (maybe one stopover each way). Additionally, since ANA will be moving to a zone-based chart and the US and Canada will both be in the North America Zone, it may not (probably won't) be possible to utilize the stopovers when beginning a Canada Hopper in the US. You can read more about ANA's award chart changes here.
If you want to do a Canada Hopper, BOOK NOW!