Disclosure: This post may contain affiliate links.
Ever lost a bag? Not anymore, it's GPS tracked.
Ever had to pay an overweight fee for a bag? Not anymore, it weighs itself.
Ever had your phone die while traveling? Not anymore, now your bag can charge it.
These new smart suitcases can do these things and more.
Bluesmart had a pretty impressive Indiegogo campaign running, raising almost $2 million from 10,000 backers to get the company off the ground. Bluesmart bags have a digital lock, battery charger, location tracking, built-in scale, proximity alerts, and an app that ties it all together. You can pre-order your Bluesmart bag for $329 now, and if you order through my link we'll both receive $20 off! Bluesmart is expecting to retail their bags at a higher cost, so if the bag interests you, get in on that preorder!
Trunkster is another smart luggage that is available for preorder. Like Bluesmart, Trunkster is also equipped with a battery charger, location tracking, and a built-in scale, but Trunkster also features zipperless entry… the bag slides to open! Trunkster comes in two sizes, a 22″ carry-on and a 27″ checked bag. By using my link, you can earn $30 off your preorder (I get $30, too). Trunkster is also offering discounts on preorders. The carry-on size can be preordered for $325, the checked size for $350, and the set for $650. Note that GPS costs an additional $40 per suitcase.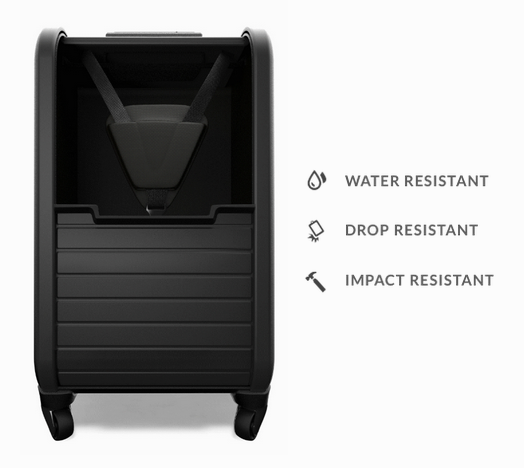 Other Bags
There are a few other bags that aren't quite as far along in their process. None of the below are available for purchase or preorder at time of writing (May 27, 2015)
Samsonite GeoTrakR
The Samsonite GeoTrakR comes with built-in GPS tracking from LugLoc. Prices will range from $250-$400 and is expected to be out this summer.
Delsey Pluggage
The Pluggage is still accepting votes from potential users of the bag to determine the final features. You can vote here.
GPS Tracking
If you're just interested in GPS tracking for your bag, it's possible to get that installed into any back with either the LugLoc or Trakdot system.
With LugLoc, you pay for the system ($69.99) and for any traces you need to do (5/year – $6.99, 10/year – $9.99, unlimited – $29.99), whereas Trakdot has a yearly membership fee ($19.99/year) in addition to buying the device ($49.99). Depending on how often you travel (and how often you check your bag!), one system may be better than the other.
Have you thought able trying out a smart suitcase? I know I'm intrigued!