Well, it was another pretty big travel week. (It seems like I've been saying that a lot lately… that's a good thing!)
I spent the beginning 0f the week on the second half of my Ireland trip. We spent two nights in Cork, one in Glendalough, and one at the Dublin airport the night before departure. Ireland is such a beautiful country. I took over 1,000 photos on the trip… so it's definitely going to take me a while to get through them all. Luckily, I was posting a bit to Instagram throughout the trip, so you can see some of my photos now. And here are two of them!
We arrived back in to Chicago O'Hare and still had to take the train back to Michigan. Luckily, our flight was on time so I was able to change our train to one that was 3-hours earlier. And in business class! I'd never taken Amtrak business class before, but it is only a 500 point premium over coach for certain routes, including the Wolverine. It was nice for boarding in Chicago because business class boards separately, and Chicago Union Station is very busy.
Following my return to Ann Arbor, it was catch up time. Since I was traveling with friends who were truly on vacation this trip, I was a little bit (well… maybe a lot bit) less productive than I normally am while on the road. Catching up is going to keep me busy until I leave again! 😛
One major travel-related accomplishment from the end of the week has been getting a pain-in-the-butt award ticket booked. Long story short, I had something booked already but needed to change it and availability was not cooperating at all! Well, I was finally able to get something booked. It's not perfect, it's still going to involve me buying a relatively short revenue flight, but all-in-all I'm happy with it. The total award cost 75,000 United miles and about $80 to fly in economy.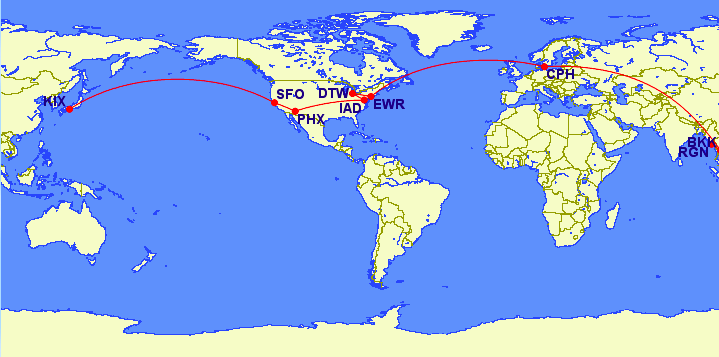 Despite the fact that this works out to about 20,000 miles in economy, I'm excited about a few unintended consequences of the itinerary…
I'll be flying some kind of weird routes (read: less common). EWR – CPH, CPH – BKK, KIX – SFO.
I get to fly a new airline (SAS) for the first time.
I'll be returning to Japan (sushi!!! ramen!!!), even if only for a night or two.
I overnight in SFO which allows me to see a good friend who lives there.
All-in-all, not too shabby at all! I'll be figuring out the last few pieces of this itinerary in the coming weeks.
Over and out.