Note: Links contained in this post may be affiliate links. Any support you choose to give is much appreciated.
My next international trip is to Russia, and I'll be flying solo on this one. It was another great fare our of Chicago O'Hare again, this time for about $400 round trip. Since I have status with Alaska, I'll be earning a 125% bonus on my miles, so even though I only earn 50% base miles by crediting these Delta flights to Alaska, the overall mileage earn is pretty good.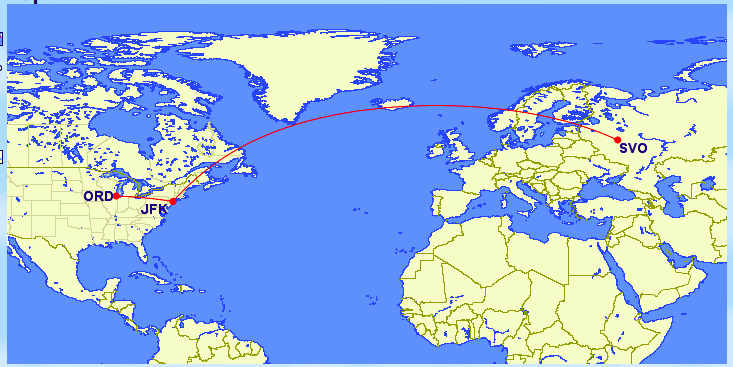 I'll be on the ground in Russia for nine days, and I plan to spend some time in both Moscow and St. Petersburg.
I don't have accommodation booked yet for this trip, but am likely going the hosel route this time around, since I am traveling alone. If I'm not traveling with people I know, I prefer to make new friends, and I find that staying in a hostel makes it so, so easy to meet new people. I always book my hostels through Hostelworld.com
.
Here are my must see/do items:
Moscow
Do:
Visit a Russian Bathhouse (Banya) – I had a great experience at a Jjimjilbang in Korea, so it'll be fun to go to another bathhouse.
Attend a show/opera/circus or something of the like
See:
The Kremlin
Epiphany Monastery
St. Basil's Cathedral (UNESCO)
Red Square (UNESCO)
Ensemble of the Novodevichy Convent (UNESCO)
Church of the Ascension (UNESCO)
St. Petersburg
Do:
Attend a show/opera/circus or something of the like
See:
Winter Palace
Church of the Savior on Spilled Blood
St. Isaac's Cathedral
Seek out the Egyptian and Non-Egyptian Sphinxes, in light of my recent trip to Egypt
St. Petersburg Mosque
Chesme Church
As usual, so much to do, so little time! I'll probably be flying one direction between Moscow and St. Petersburg, and will take the train in the other direction.
Do you have any recommendations for must-see or must-do things in or around Moscow and St. Petersburg?