This post was written by Summer Campbell.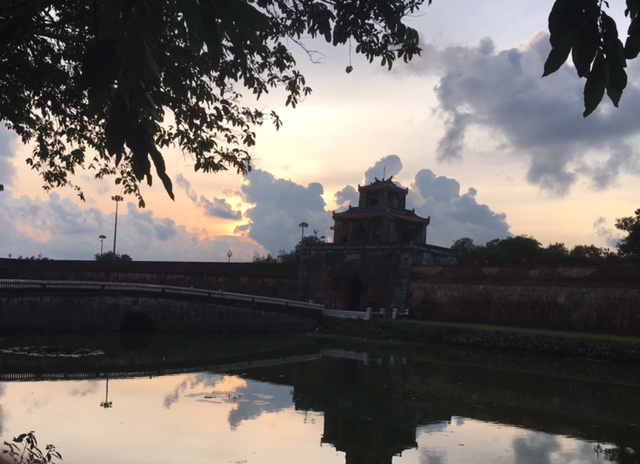 Where the walking sticks, instead of being the color of wheat, resemble green hued banana leaves all rolled up, where the butterflies in the countryside are so massive, you mistake them for bats, where the air smells like grilled pork, boiling broths and wood fire as the smiles of the people warm your soul…that's Vietnam, the one you'll fall in love with.
Reference this site!
Before traveling to Vietnam, I was fortunate enough to stumble upon the most detailed and aesthetically pleasing site, vietnamcoracle.com. The author of the site has been living in Vietnam since he went there to teach English in 2005 and fell in love with both teaching, and Saigon. He had first gone to Vietnam as a teenager and when asked about that time which he so vividly remembers, he said, 'In the cities, I was struck by the volume of bicycles and motorbikes, as every visitor to Vietnam is.  But, away from the city, I remember the graves in the rice fields of the Mekong Delta; the smell of butchered poultry in Ben Tre market (which turned me vegetarian for the next 4 years); sleeping under mosquito nets in My Tho guesthouse which, back then, felt remote to me. In the north, I remember the howling typhoon winds during the night on Cat Ba Island, and the lightening jumping from cloud to cloud above Hanoi; the heat and the strange, unidentified sounds of the jungle in national parks; and silhouettes of exotic animals printed next to the indecipherable Vietnamese text on a menu in Hai Phong.' This is a small indication of his eloquent writing and his love for Vietnam which shows through the dedication he has given to this independent travel guide.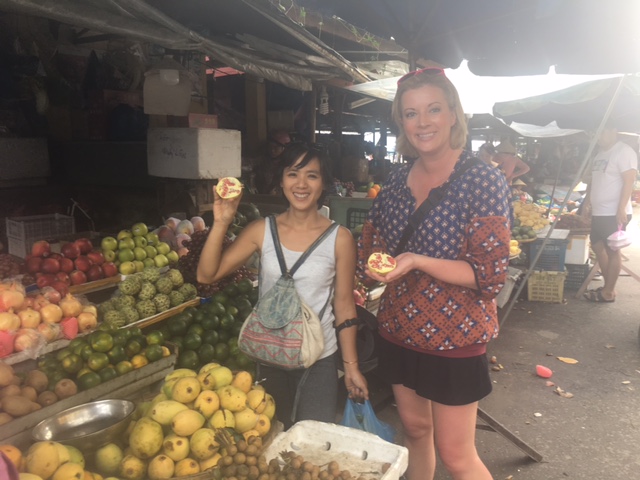 Book a tour with Lam Le!
Upon arriving in Hanoi, we were picked up at the airport by the guide we had booked for an immediate tour of the city. He took us to our Airbnb, let us have a few minutes to change and while we were doing so, he went and got us fresh bottles of water. He took us to a restaurant called Pho 10 for our favorite noodle soup and a bottle of Hanoi beer. I was very grateful he was with us because I must admit that after entering the overflowing city of 7 million people with heat and humidity like I've never felt before, my immediate thought was, 'What was I thinking?!' But, after touring around with Lam to the Temple of Literature, Hao Lo prison, Hoan Kiem Lake, out for some street food and egg coffee, I begun to enjoy myself. I found that even having the comfort of him helping me cross the street (which is not an easy task if you don't know how amidst a sea of motorbikes) was worth every penny, so we asked him to take us on another tour at the end of our trip. This way, you get a detailed history about points of interest and culture, as he was a very knowledgeable man. If you'd like to book a tour with Mr. Le, you may email him at tours.fov@gmail.com.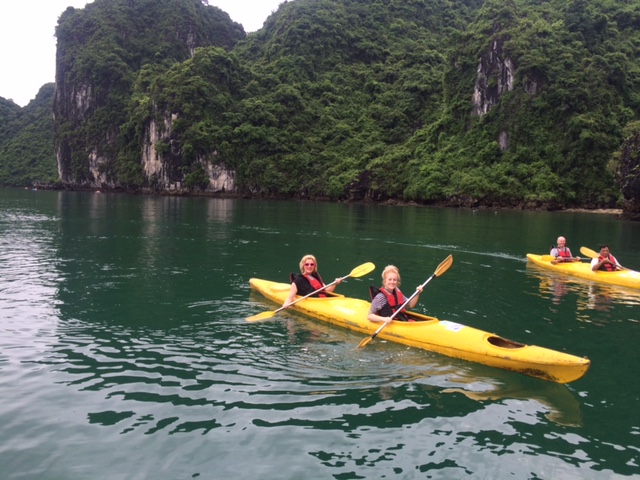 Take an overnight boat cruise in Halong Bay
Halong Bay is one of the natural wonders of the world, and once you lay eyes on the majesty of the bay, you will understand why.  Originally, we were just going to book a day cruise, but it is three hours away so you're pressing your time if you go about it that way. We booked a tour with vspiritcruises.com which had an incredible staff and tour guide, Jimmy, who made it a relaxing and enjoyable experience. The great part about this is, if you get lucky (like we did…shout out to my new friends from Tasmania & South Africa!) you end up meeting really great people from different parts of the world and form new bonds of friendship through the group activities such as; squid fishing in the dark, kayaking through the bay, swimming in the South China sea, morning tai chi and exploring Surprise Cave. This beautiful bay with its emerald green waters and 1,969 stunning limestone karsts where the locals say a dragon descended to protect them from invaders, will leave you enchanted.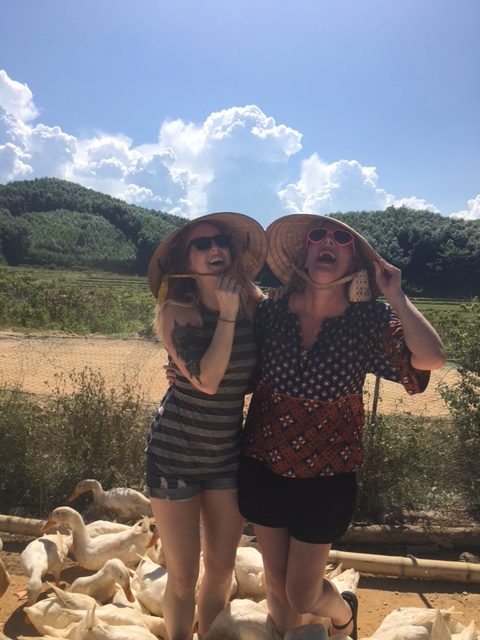 Get out of the city and into the country!
Phong Nha, in the central coast region of Vietnam, turned out to be the highlight of my trip. We stayed at a farmstay, phong-nha-cave.com where water buffalo and bovines meander, curiously munching on the surrounding greenery while skies turn a pallid pink in the evening and the quiet of the night envelops you. In the light of the day you may decide to enter Phong Nha- Ke Bang National park and hike 500 steps in the jungle to get to Paradise Cave which is 31 kilometers long and the 1 kilometer that is open to the public is like some magical underground world straight out of a fairy tale. If you don't feel like trekking, Phong Nha Cave is approximately 400 million years old and you may enter into it by boat. Gliding through this cavernous majesty with only the sound of the oar caressing the water is an experience which calms the senses and is a vision unmatched. One remaining place I must mention in Phong Nha is the Duck Stop facebook.com/DuckStop. There, you can ride a water buffalo named Donald Trump in the Son River and have the gracious host, Quynh, show you how to feed the ducks. However, not so much in the traditional manner that you may be picturing- like scattering bread into a pond…you'll see for yourself if you go there!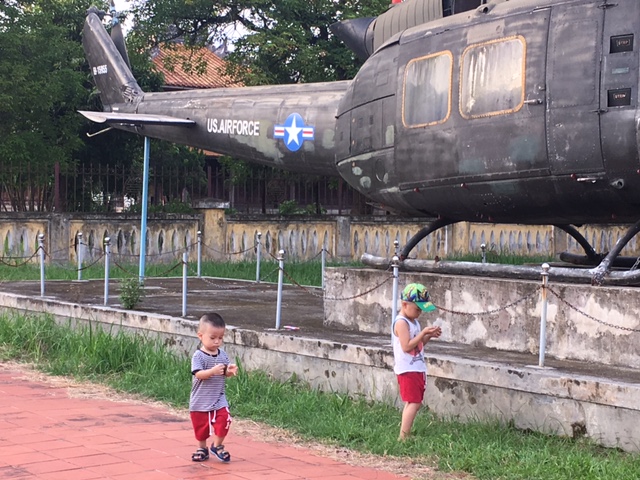 Remember the history
From our location in the countryside, we booked a tour that takes you to the Vinh Moc tunnels, the DMZ and ultimately to Hue. It was a sobering day as we learned about the war torn history of Vietnam, but it is worth seeing and reflecting upon the sadness of conflict. The DMZ had 700,000 bombs dropped in that area because it was a dividing point between the north and the south. The Hien Luong Bridge connecting the two was divided in half and families that were separated could only see one another from the other side of the Ben Hai River. The coastal fishing village of Vinh Moc decided to go underground, where they built tunnels and small niches for families to live in. Seventeen babies were born in this tunnel system, not seeing the light of the sun for the first years of their life even though they were right next to the beautiful sea. We ended our day in Hue where we saw the Forbidden Purple City which was home to the emperor and the capital of Vietnam from 1802-1945. Walking amongst this great citadel and seeing children in an adjacent lot playing next to tanks and helicopters still left from the war was a surreal scene.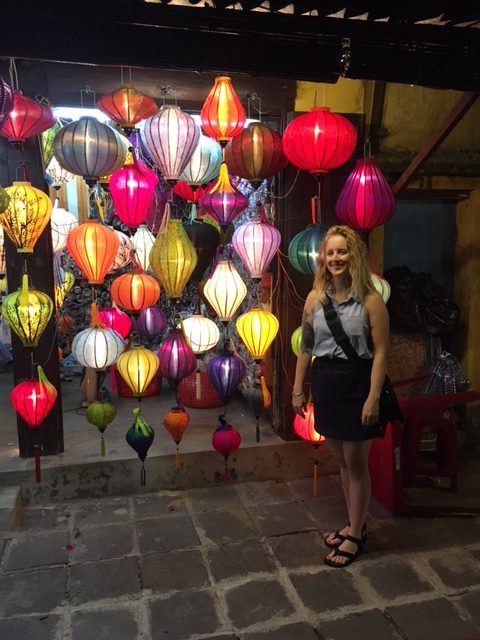 Enjoy the beaches and the lantern lit city of Hoi An
As a well preserved town that was an important trading post for several centuries, Hoi An is a place that will charm you with its people, its market and the lovely beaches in and near the area. Colorful handcrafted lanterns light up the night and add another level of depth and romance to being in such a strange and exotic place. A beautiful Japanese bridge adorns the skyline and people sell their wares, including small paper candles that you may place in the river and make wishes for your loved ones. During the day, you may lounge on An Bang beach while you imbibe in delicious tropical drinks and dip in the warm water in order to restore your body and mind.
So…if you're ready to awaken all of your senses simultaneously and open your mind and heart up to the metamorphosis to follow, you will fall in love with Vietnam.