It always seems that I go from no plans for the following year to an explosion of plans in no time flat. Usually that happens sometime in November or December. 2016 is no different in that respect.
Though, in some ways it is different. In 2016 I am focusing on taking less trips and having more time in between trips, but the trips I do take are going to be longer. I'm cutting down on the international long weekends and weeklong trips that kept 2015 packed full. In 2016 I plan to have one 3-month trip, one 2-3 week trips, and two week to two week trips. I told you about my three-month trip through Central Asia last week, and I now know what my 2-3 week trip is going to be too!
Another difference for this year is that so far my trips are shaping up to have a theme (though, I don't expect this to be the case with the two shorter unplanned trips).
So, what's the theme for 2016? The Silk Road.
The Silk Road is an ancient network of trade and cultural transmission routes that were central to cultural interaction through regions of the Asian continent connecting the West and East by merchants, pilgrims, monks, soldiers, nomads, and urban dwellers from China and India to the Mediterranean Sea during various periods of time.[1]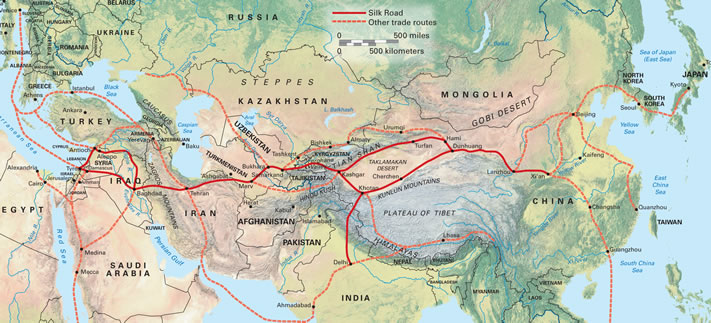 In the image above, you can see the Silk Road and other popular trade routes overlaying today's country lines. As I mentioned last week, I will be traveling to Uzbekistan, Tajikistan, and Kyrgyzstan – all countries that contain part of the Silk Road. I will even be traveling along the Pamir Highway, which formed one link of the ancient Silk Road route.
As I officially decided over the weekend, I will also be going on Yomadic's October 2016 Untour of Iran. It is an 11 day, 12 night tour that will take us from Tehran to Shiraz. Lately, Iran has been hailed as a pretty great travel destination. It was actually this article of 19 Reasons You Shouldn't Visit Iran that made me sure I wanted to go, and soon.
The Yomadic Untour includes nearly everything except for our visa, flights, insurance (which is needed to get the visa), and a couple of meals. And as an added bonus, if you tell Nate (Yomadic) that you know George (Travel Blogger Buzz) you can get 100 Euro off when booking two tickets. The full cost of the Untour is 1,799 EUR, which is really quite reasonable when you consider what you are getting and the destination.
Those of you who have been reading this blog for a while probably know that I'm not a huge fan of tours. I only go on tours when it is something I otherwise would not be able to experience or would have a tough time experiencing on my own. The Durian Tour I booked last summer is a perfect example – Lindsay's (Year of the Durian) contacts made it possible to experience way more, and way better durian than I would have been able to on my own. The trip to Iran is the same. I know that I would have been able to travel there on my own, at least at some point. Heck, I even  considered adding it on to my summer tour, but being a solo-female traveler makes logistics more difficult sometimes. After hearing that my good friend George was also leaning towards going, I was completely sold.
From everything I have heard, Iran is a fantastic travel destination and Iranians are incredibly friendly. I can't wait to experience the country for myself, and connect my travels there to other travels I will be doing in the region in 2016.