If you travel often, chances are you've made some dumb mistakes either before or after your departure. No one is perfect, though, even the most seasoned travelers, and unfortunately the best way to learn is by making these errors.
Book early if traveling in high season
Few things are less disappointing than arriving at your destination and not being able to do the activities you'd been wanting to do for months leading up to a trip because you didn't book them in advance. For example, Blue Lagoon, a geothermal spa in Iceland, is quite popular among tourists. Little did I know that pre-booking and choosing your time slot online are required. My friend's and my original plan was to go Dec. 31 to soak in the hot water and "wash away the old year." It quickly backfired when, the night before, we learned there were no spots available online. In fact, we couldn't get in until Jan. 2 in the afternoon hours, which was after the sun goes down mid-winter. The change of plans even led to extending our stay in Reykjavik by one night.
The lesson here is to book activities you know you want to participate in as early as possible to make sure you stay on schedule. Although winter in Iceland isn't particularly high season, our dates around New Year's Day were in high demand.
Consider all your options before booking
This is one of my most recent duds. I was booking ferries between Greek islands online so that my boyfriend and I could arrange pickup services with our hotels. It's easier to do so when you know the time of arrival. Also, we're traveling in August, which is high season, and I wanted to make sure we didn't miss the boat (lesson learned from the story above). I went on Paleologos booking travel engine, which offers tickets on many Greek ferry routes. I booked two and was charged 10 euros in service fees. No big deal, right? Well, upon consulting my Lonely Planet guidebook about Greece, I found a different website (Milostravel.gr) that charged the same price for the ferry tickets but only 2.89 euros in service fees. I contacted the original company by email within 24 hours to check whether my booking could be canceled and fully refunded, but they said the service fees were non-refundable.
The lesson here is to check multiple options before booking flights, accommodations or ferry/train tickets. You never know where you'll find a better deal. At the end of the day, a difference of a few dollars isn't huge in this case, but significant savings can be had by consulting with various booking engines first.
Maximize your rewards
I'm a big fan of using online travel agencies, especially Orbitz, for booking hotels. Many times a 15 percent promo code can be applied to a listed rate, and you can earn Orbucks, which can be redeemed toward a future hotel stay within a year (not flights, though). However, the rewards vary depending on your booking tools. If you book through the Orbitz app, you earn 5 percent of the room cost back. If you book on a computer through Orbitz.com, you earn just 3 percent back. For example, a room rate is $500. Booking through the app will return $25 into your Orbitz account, whereas booking through the website will return only $15. Even if you book only a few hotel stays per year, the rewards can still add up. Remembering little things like that can be difficult, especially if you juggle rewards on multiple credit cards with different bonus categories also. More than once I've booked hotels through my laptop instead of using the app and earned fewer Orbucks on the same booking.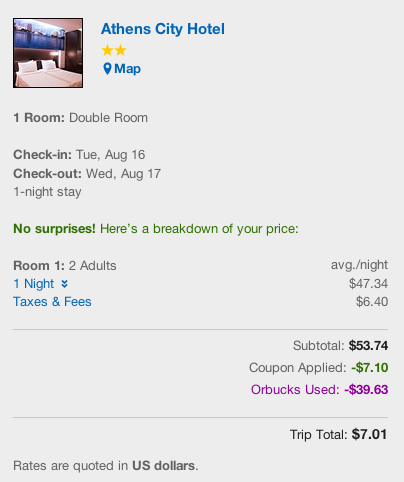 The lesson here is to maximize your rewards. If you have a card that earns bonus points on travel, use it when applicable. If a promo code is available, stack it with the earned rewards to receive a deeper discount.
Although none of these mistakes is the end of the world, sometimes we get excited about an upcoming journey, become impatient and inevitably commit a few duds here and there. But don't worry because they add up to a learning experience and make our future wanderings a little easier.
What kind of mistakes you've made you wish you hadn't?