April 12 – 18
Well, guys… I'm in Russia! I'm currently in Veliky Novgorod, on recommendation from Rapid Travel Chai, which is a couple hours south of St. Petersburg. Before this, I spent a few days in Moscow, and I'll be headed to St. Petersburg on Monday. I was really intimidated about this trip for some reason, probably partially because I'm traveling alone, partially because I didn't think English was going to be widely spoken here, and partially because the US-Russia political situation isn't so good right now and I was expecting a lot of "anti-American" sentiment.
Well, it hasn't been so bad. Yeah, English isn't widely spoken, but it's no worse than in Beijing. Traveling alone has proved not to be a problem, yet again, and I haven't seen/heard too much anti-America/American even after people find out that's where I'm from. So all-in-all, it's a  success so far, I'm glad I came, I will be back (Russia is huge!!), and I would recommend it as a destination for other travelers as well.
Also, there are A TON of AMAZING churches and cathedrals here. I don't really consider myself to be a church-person… but you have to appreciate this beauty! Follow me on Instagram to see more of my photos in real-time.
Last week I had decided that I was for-sure going to go to Myanmar before my Durian Tour in Malaysia. I got that ticket booked this week. I'm flying a pretty interesting route to get there. It will also be my first time flying SAS. I had another option to fly through somewhere else in Europe (I forget where) with UA as my TATL segment, but flying on a new carrier sounded like more fun. Oh – and this is all in economy!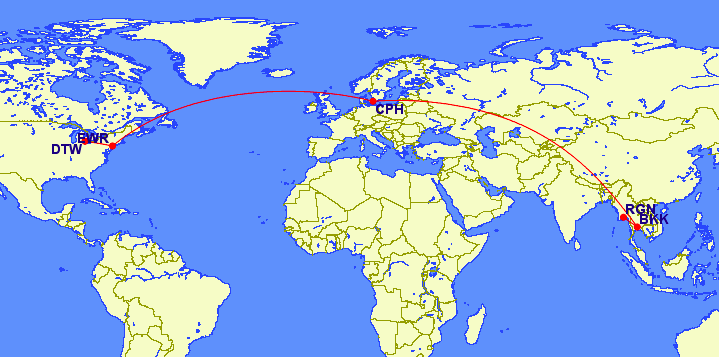 Finally, with the impending Southwest devaluation which so few details were known about, I booked a few weekend hops around the US with all but ~400 of my miles. As it turns out, the devaluation probably didn't affect my flights too much (though I haven't actually checked yet), but it will still be good to get some use out of my companion pass before the end of the year when it expires. I had gotten it early last year, but then life happened and I didn't have anyone else that could travel with me on a semi-frequent basis at that point. So… sadly, it has only gotten used for two round-trips so far in over a year! Well, that's going to change… but not until August, unfortunately. I'm basically traveling from now until the end of July with just a bit of time at home, so there wasn't room for more trips until August… but, hopefully that will still leave time for 6 or so trips before it expires. So far I have planned three.
I've never been to Rhode Island or Portland (though I have been to Maine), but they were pretty cheap points flights, and you can't beat 2 for 1 anyway. I'm looking forward to seeing more of the US, and getting some good value out of my Southwest Companion Pass in its last few months.