I love putting together crazy cheap trips that are usually initially the result of a mistake fare that is just too good to pass up. Well, it happened again! This trip is a little bit different than others I have booked in the past because two of the three legs of the flight were mistake or very good fares in business class, the majority of the trip will be completed with a friend, and a large group of frequent travelers/points and miles junkies will be on one of the flights… I'm taking there will be 12 of us or so! It's going to be a party.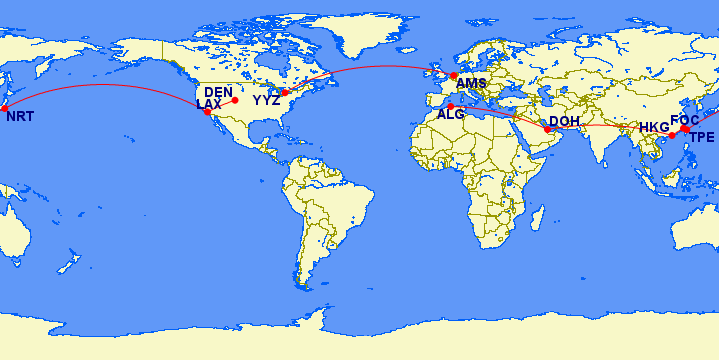 First Leg: Toronto to Amsterdam – $407.50 Business Class
The first leg was part of a roundtrip fare I booked between Europe and the US to get home from my trip to Central Asia over the summer. It was convenient that I could kill two birds with one stone and also book my positioning flight for the main mistake fare leg that got this whole trip started. The total cost of the roundtrip ticket was $815. This flight probably wasn't a mistake fare, just a really good promo fare, but I've paid more than this in the past to fly between the US and Europe in economy so I was happy to book at this price point in business class.
Second Leg: Algiers, Algeria to Fuzhou, China – $179.55 Business Class
A friend alerted me about this fare and told me that a whole bunch of other people he knew were also booking it. I wasn't really in a place at the time that I could think much about it, so I figured that since it was so cheap I would just book it and see if I would be able to pull it off. As it stood the last time I knew for sure, there should be 12 of us 'travel hackers' flying on the leg of the flight from Doha to Hong Kong. We're going to be taking up a nice little section of the business class cabin so it should be a lot of fun!
Third Leg: Taipei, Taiwan to Denver – $175.79 Economy Class (Round Trip)
This is the only leg of the trip that is not in business class, but it is booked in the Y fare class of economy. Y is the highest and should allow us to make changes to the flights as we need and possibly making upgrading with miles, cash, or operationally a possibility. Time will tell for that a little bit closer to the trip. Technically the fare is a roundtrip fare, but I'm not quite sure when I'll be heading back to Asia after coming back from this trip. Luckily, since this is booked in Y, I'll be able to change the return flights without paying fare difference or any change fees after the first segment of the trip, which I intend to do in the hope that I can use the return flight at some point.
Other Flights
There are clearly a few small segments still missing from this trip, but it's a ways off still. I'm holding off booking anything until the trip is a little bit closer. I'll have to get to Toronto for my outbound flight after being in New York for work. Then, I will likely spend a week in Europe, fly to Algiers, and spend a week in Algeria. We have a little bit of time between arriving in China and departing from Taiwan as well. I'll be living in Colorado for the winter so flying back to Denver was intentional. This trip is going to be a lot more flight intensive than I usually do, but it will be fun because there are so many other people involved. It's basically an unofficial MegaDO – which for those of you that don't know is a frequent flyer get together that involves a private chartered plane and other airline/airport/airplane related events.
Totals: $762.84, 18,703 miles in the air
Assuming I don't end up taking my return flight back to Taipei, I'll earn just over 21,000 miles from this itinerary including class of service bonuses. These miles are worth somewhere around $400 to me, which gives this trip a pretty good discount. Plus, I'll be traveling in style most of the way with a bunch of friends who are also all travel nerds, so we're going to have a lot of fun!