Disclosure: This post is sponsored, all opinions are my own.
Dubai is surely an interesting city. From the Burj Khalifa, the tallest building in the world, to an indoor ski hill, and more malls than you could possibly imagine — Dubai screams extravagance. But, considering temperates are over 90F outside even in the winter, some indoor luxury is needed. Choosing a good hotel can help make your trip so much more relaxing. Here are three hotels that I would love to stay at the next time I'm in Dubai and why.
Jumeirah Beach Hotel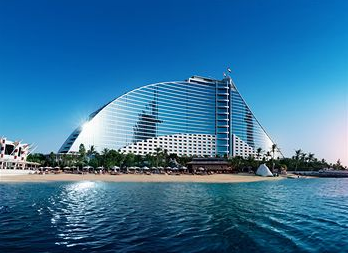 Located only minutes from the beach and with one of the coolest looking exteriors, I doubt you could go wrong staying at the Jumeirah Beach Hotel. And especially if you are looking to go from the indoor ski hill to the beach or the water park, this is where you want to be with very convenient location to both. Not to mention, their TripAdvisor rating is pretty impressive. Starting around $250 per night, this hotel is on the pricier side compared to other options, but since it has a great location and Dubai is a city meant for splurging, it could be a great option.
Armani Hotel Dubai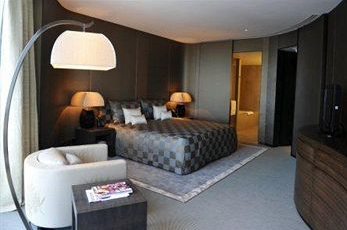 Well, this hotel is located in the Burj Khalifa — serious points from the perspective of a great location. The Dubai Fountain, also an iconic Dubai sight, is located minutes away. And in case you're not ready to go back to your room and relax after you go up in the tallest building in the world, the Dubai Mall, the largest mall in the world is right next door. Just like anything Armani, this hotel is very high-fashion. Another place that I doubt you could go wrong staying, but comes with an even higher price tag of around $500 per night. It's probably the next best thing to staying in The Burj Khalifa!
Hues Boutique Hotel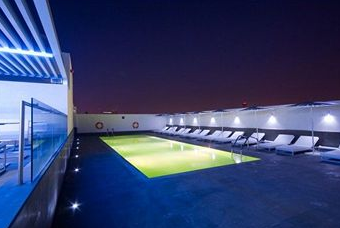 Don't worry, for the more budget conscious among us there are still some very good options. Costing around $90 per night, the Hues Boutique Hotel in Deira is a great option. Deira is located a bit outside of the downtown area, but with Dubai's expansive and spotless metro network that's not a problem at all. In fact, when I went to Dubai in November 2013 this is the area I stayed in, and I wouldn't hesitate staying here upon my eventual return to Dubai. This hotel has nice clean lines and an outdoor, rooftop pool — super cool! A bonus about staying in Deira is it is great for plane spotting flights coming into and out of Dubai International Airport, so if you're an aviation geek, this is definitely the area you want to be in.